Integral Short Pattern V Bore Ceramic Ball Valve
VerSpec Ceramic Lined Ball Valve
Size: 1/2" – 8" (DN15-DN200) Full Bore Construction
1-1/2" – 10" (DN15-DN200) Reduced Bore Construction
Pressure: Clas150-Class300 (PN10-PN40)
Available Manufacturing Standards: ASME, JIS, DIN, GOST etc.
Available Liner Ceramic Materials: Al2O3, ZrO2, Si3N4, SiC
Available Ball Port type: Round type or V type.
★ V bore angle from 30 degree to 90 degree for multi-control
★ 99.5% Al2O3 Ceramic Raw Material for ball and sleeve
★ Hastelloy Stem prevent material corrosived by severe service
★ Short pattern for compact construction design
★ ISO 5211 Mounting Pad Easy for actuator driving.
Due to the advanced properties of the technical ceramics used, VerSpec Ceramic Ball Valves offer significant advantages over standard material ball valves. VerSpec valves are manufactured using solid 99% above high-purity alumina ceramic, guaranteeing a valve that is superior in all respects, including resistance to abrasion, cavitation and corrosion.
More details please download VerSpec Ceramic Ball Valve Catalogue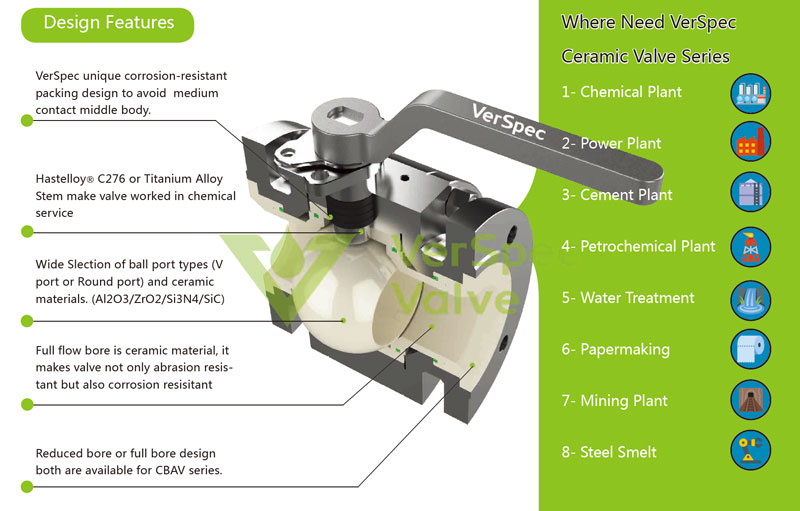 By utilizing a ceramic material that is both corrosion and abrasion- resistant, we offer an extra level of security to our customers by offering up to 6 months warranty against corrosion, abrasion.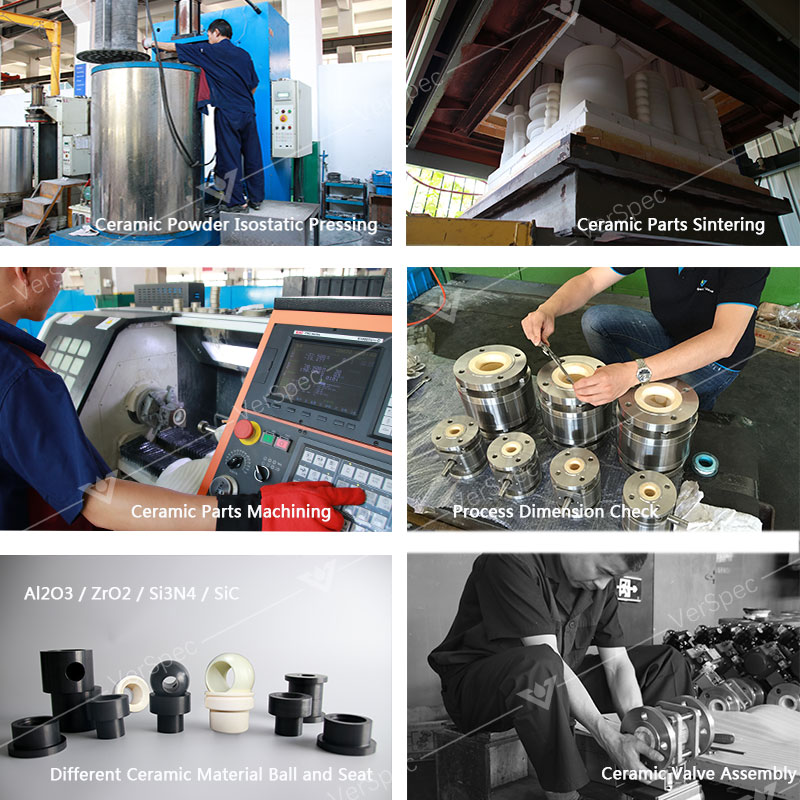 Different Ceramic Materials for different related application.
1-Alumina (Al2O3) is one of the most economic ceramic materials, it has great corrosion and abrasion resistance properties.
2-Zirconium (ZrO2) is the highest strength and toughness at room temperature of all engineered ceramics. But this ZrO2 has operating temperature limitation, the Max temperature is 320 degC.
3-Silicon Nitride is one of great ceramic material especially used for high temperature application, special housing and ceramic parts permit solution temperature up to 950 degC.
4-Silicon Carbide is the most hardness material of all engineered ceramics, in the other word SiC hardness next to Diamond. But very low fracture toughness of SiC is a big weakness for ceramic parts, it's easy be broken.